There is a March 23rd in every year. If you keep track of them, you will see that on any given year some events are more important than others, like a new born baby, a departed relative, a home, office, or work anniversary of any kind. No March 23rd  goes without giving me something to think about it.
For us at "Fuente de Agua Viva" Church, it is a new born status. Just like new parents that do not know what to do with the new baby, we were afraid of not doing our best for this next era. In the same way that it is the custom in society, when a baby is announced, to have baby showers, gifts for the baby (and sometimes for the mother), clothing, furniture, special food, other needed things.
Well, we had have such excitement about this new beginning that we worked very hard to prepare all the activities;
inviting all the people that we would like to see in our party,
planning the worship service with the baptisms, the reception of members, the ordination and installation of Ruling Elders, the installation of the Organizing Pastor, the Communion,the chartering of the church, etc.
preparing all the food after service, ufff!
I know now why new mothers take 40 days after to recover.
Some babies are delivered on a marked date, others come when they want to come, but this one (our church) was expected for a long time. Soooo long… You see, We had been worshipping in another part of the County dying, not expecting much and wanting more, we wanted to be God's church but we did not see any future there. Then it was announced that we could be renewed, and everything after that become the reality we wanted.
We moved to Faison, not knowing what would happen;
we started a covenant with a partner church, not knowing what to expect;
we remodeled the house we were allowed to use, not expecting much for a very old house;
we started a "new" church with the few "old" members we had, not knowing if the move would be a benefit;
we starting receiving visitors, not knowing if they would stay.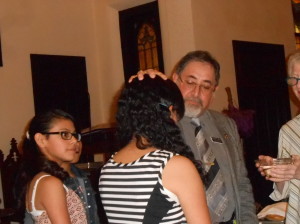 But then,
we initiated Confirmation Classes, really knowing what our Lord Jesus Christ wanted from us;
we received new members, knowing that all of them wanted to worship with us for good;
we talked about go to the next step, knowing we were ready to do so;
we made plans, more plans, many plans;
then there was a big decision to buy and we went to talk to Faison Presbyterian church about buying the house we were using for worshiping, not positive answer, oh boy, a set back!
Well, we started, again, talking more, but this time with our partners at Faison Presbyterian Church, we made two committees, one from each congregations to find answers about our need. Then it became clear that we needed a better place, but more than that, we needed to be a "CHARTERED CHURCH". Somehow a frightening idea, because, even expecting that step, we thought it was very early to go for it.
Then the moment came, why don't we go for it? It won't hurt, will it?
Well everything else is History. We asked the Presbytery through the New Church Development Committee to consider organizing us as Church, the request went to the Presbytery in its next stated meeting, they said "YES", we said "YES" and went for it.
What is the feeling along the last-first step of being a church?
First- committed;
Second- relieved; and
Third- happy.
Happy because we already had taken the idea of accept we can be a CHURCH and know that we can go with it.
Relieved because we could go to other plans more from the Book (the Bible) and the other Book (of Order).
And committed because we know we have the whole Presbytery to teach us, to protect us and to guide us in the path of being and belong in this denomination we love.
Then 23rd of March has put its magic onto us.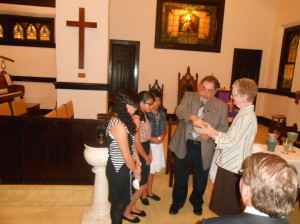 It is the date when "Fuente de Agua Viva" became full grown but still a baby to go forward. Then we have to grow in number and in quality of faith. Then we have to have our Sanctuary and more places for the increasing numbers of attendants we have every Saturday. Then we have a memory to keep, the day we became more mature in God's path to Heaven.
By the way March 23rd is for me, Rev. Eduardo Moreno, a special date also, because on that date in 1998 my family and I enter for the first time the USA heading to North Carolina and to this wonderful Presbytery.
I praise the Lord Jesus Christ for His love to all us the church.
Rev. Eduardo Moreno
Hispanic Evangelist and Pastor